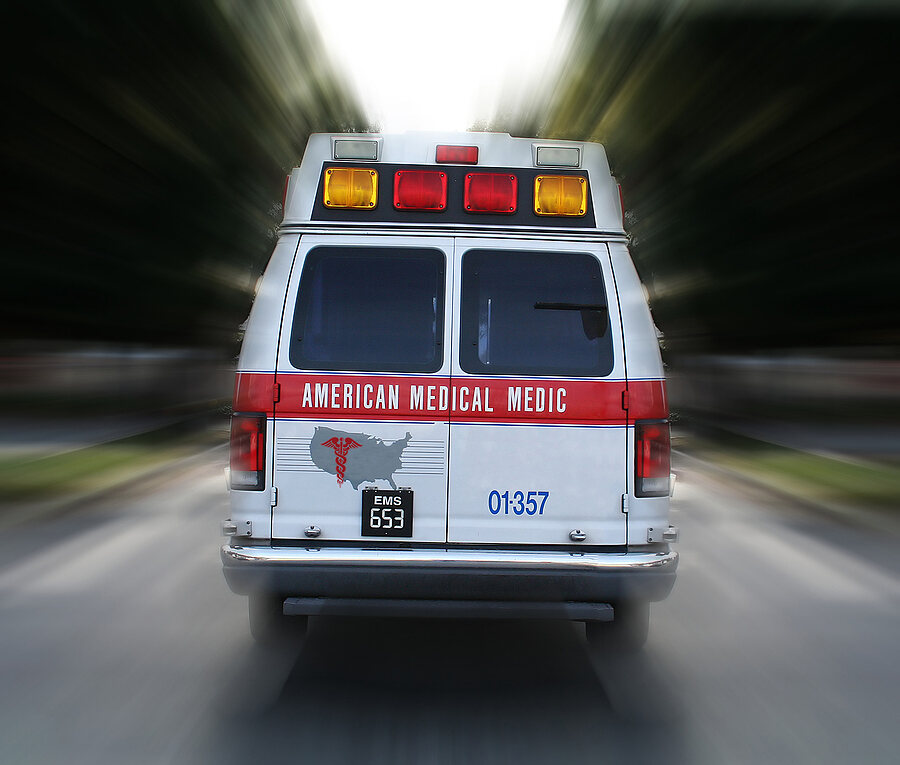 The California Driver Handbook states that drivers must "yield the right-of-way to any police vehicle, fire engine, ambulance, or other emergency vehicle using a siren and red lights." While most drivers can safely pull over to allow emergency vehicles to pass, some situations end with an accident.
[lwptoc]
In this post, we take a look at some of the unique traffic laws that apply to emergency vehicles in California and what may happen if a collision occurs.
What is an authorized emergency vehicle in California?
"An authorized emergency vehicle is… any publicly owned and operated ambulance, lifeguard, or lifesaving equipment or any privately owned or operated ambulance licensed by the Commissioner of the California Highway Patrol to operate in response to emergency calls." – California Vehicle Code, Section 165
California drivers must share the road with emergency vehicles such as ambulances, fire trucks, and police vehicles. California Vehicle Code states that these emergency vehicles may be publicly owned or privately owned and operated, but notes that the Commissioner of the California Highway Patrol must properly license all emergency vehicles.
Why are there special traffic laws for emergency vehicles?
Emergency vehicle laws enable first responders to safely provide life-saving measures and protect people and property. They also provide a helpful framework for emergency service organizations as they train their employees for safety. Traffic laws for emergency vehicles exist for two key reasons:
1) To help police, firefighters, and paramedics respond to emergencies quickly
California's average response time for emergency responders ranks only behind Illinois in speed. With an average response time of less than seven minutes, California's first responders can arrive faster and save more lives due to California's "Move Over" Law and Vehicle Code Section 21806.
2) To help safeguard against secondary accidents
A secondary accident is a crash that occurs due to the initial or "primary" accident. For example, if a police officer responds to an accident report and collides with another car while on the way to the scene, the collision between the police car and the passenger car is the secondary accident. Roughly 20 percent of crashes are secondary accidents. But with special laws in place, secondary accidents are less likely to occur.
What are some factors that can lead to emergency vehicle accidents?
Even with special traffic laws, accidents involving police cars, ambulances, and fire trucks still occur in California. These accidents frequently involve passenger vehicles and often lead to injuries. The National Safety Council says that accidents involving police cars are most likely to cause serious injury or death, while accidents involving fire trucks are the least likely to do so.
Emergency vehicle collisions and injuries typically involve speeding and one or more additional exacerbating variables. First responders are often under intense pressure to provide life support services quickly, which can diminish their driving accuracy.
Here are some specific factors that may lead to emergency vehicle accidents:
Speeding: Navigating sharp turns and crowded highways while speeding can cause a driver to lose control or inadvertently hit another vehicle.
Fatigue: Many first responders view long hours as an inescapable part of the job. But working long hours can lead to fatigue and accidents.
Pressure: First responders and police are under constant pressure. They know people depend on their services and may speed or otherwise drive recklessly to respond quickly and save lives.
Confusion: A lack of awareness of traffic laws among passenger car drivers can contribute to secondary accidents near an accident scene.
Noise: Loud sirens, people screaming, and other distracting noises can cause drivers to lose focus, increasing the likelihood of an accident while driving.
Police officers, firefighters, and paramedics are also more likely to battle serious behavioral health conditions that may impact their ability to make swift driving decisions while on the job. The Substance Abuse and Mental Health Services Administration points to depression and post-traumatic stress disorder as two behavioral health conditions that may pose a risk of harm to first responders and others. The California Professional Firefighters recently launched Healing Our Own to help first responders cope with these challenges.
What is California's "Move Over" Law?
"California's 'Move Over' Law requires all drivers to move over a lane or if they are unable to do that safely, slow down when they see amber flashing lights on Caltrans vehicles, law enforcement and emergency vehicles, and tow trucks." – California Department of Transportation
California's Move Over Law was introduced in 2007 to protect police officers and other emergency personnel at a car crash or other emergency incident on a roadway. The Law requires passenger vehicle drivers to refrain from driving in the lane directly next to the broken-down vehicle. This creates room for emergency personnel to perform their duties safely without increased risk of roadside injury.
If a driver can not safely move their car into another lane, then the driver should reduce their speed when passing the emergency vehicle. These requirements do not apply if a protective barrier separates the emergency vehicle from the freeway. Failure to comply with this law may result in a $50 fine.
What is California Vehicle Code Section 21806?
California Vehicle Code Section 21806 requires California drivers to yield to emergency vehicles with a siren and display at least one visible red light. Additionally, passenger vehicles and motorcycles must remain stopped until the emergency vehicle has safely passed.
A key element of Vehicle Code Section 21806 is an emphasis on safety. Drivers are advised to refrain from stopping in the middle of an intersection and pull over safely when adhering to the law.
What happens if you violate Vehicle Code Section 21806?
If a driver violates California Vehicle Code Section 21806, they could receive a ticket and face serious consequences. Whether the violation is accidental or on purpose, the driver may receive a fine and points on their California driving record. To avoid these penalties, a driver has two options:
1) Voluntarily attend traffic school
Traffic school is not a requirement if a driver violates California Vehicle Code Section 21806, and attending traffic school will not eliminate any financial penalties. However, if a driver completes traffic school they may keep points off their driving record. However, not all California drivers qualify.
To attend traffic school, the driver must have:
A valid driver's license;
Driven a noncommercial vehicle when they committed the offense; and
Committed a moving violation.
2) Challenge the ticket
A driver's other option is to challenge the ticket in court. If the driver mounts a successful legal defense, they may avoid both points and financial penalties. However, avoiding these penalties is difficult without the guidance of an experienced traffic ticket attorney.
Do any new traffic laws pertain to emergency vehicles?
California drivers, whether they drive a passenger vehicle or an emergency vehicle, must stay abreast of the most recent traffic laws. Here is a look at some of the more recent laws concerning emergency vehicles in the Golden State:
1) Reduced Speed Now Required on Local Roads
Until recently, drivers of passenger vehicles, trucks, and motorcycles needed to slow down or change lanes when they approached an emergency vehicle on freeways. This law was since amended to apply to drivers on local roads as well. The purpose of this law is to protect first responders and law enforcement agents who must exit their vehicles to respond to an emergency.
2) Hi-Lo Siren Use
Governor Gavin Newsom recently signed Senate Bill 909 that permits emergency vehicles to use a "Hi-Lo" warning sound that notifies residents of the need to evacuate an area due to an emergency. The new legislation helps evacuate Californians when wildfires risk their lives and homes.
What should you do if an emergency vehicle hits you?
No matter how carefully you drive, you cannot prevent all collisions with police cars, ambulances, or fire trucks. If an emergency vehicle hits you, try to remain calm.
Here are some other measures you can take if an accident with an emergency vehicle injured you:
Seek medical care for your injuries. Call 911 to request an ambulance. Then check to see if any other injured people need help.
Report your accident. California law requires you to report your accident within 10 days if an accident injured anyone.
Secure the contact details of the other driver. Make a note of the driver's name, license plate number, and insurance information.
Take photos and notes. While you wait for emergency respondents who were not involved in the accident, take some photos of your vehicle, the scene, and your injuries.
You might assume that someone will magically handle everything if you collide with an emergency vehicle. But refraining from filing a report can be a costly mistake, especially if your injuries require extensive treatment. The best way to ensure you comply with California law is to report your accident as soon as possible.
What should you do if an emergency vehicle injures you?
Emergency vehicles play a critical role in protecting the lives of Californians. And while drivers of passenger vehicles are required to yield the right of way to ambulances, fire trucks, and police cars, drivers of emergency vehicles are also legally required to engage in safe driving practices.
If an accident with an emergency vehicle injured you, reach out to a skilled car accident attorney with a proven track record of success handling emergency vehicle cases.
An experienced lawyer will listen to your story and determine whether you may seek compensation for your injuries, pain, and suffering. Contact one today for a complimentary consultation.